Nov 17
2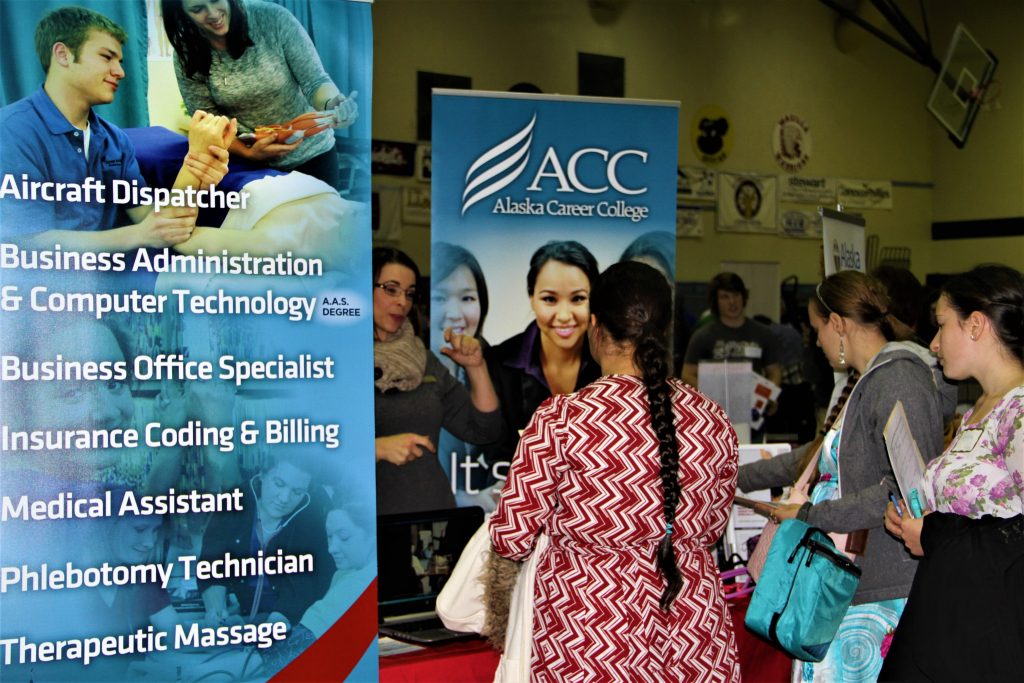 Hundreds of teens–nearly 500–positively shape their future during the eighth annual Kenai Peninsula College Fair.
High school students from all points in the district arrived at host site, Soldotna High School, to explore future options during the eighth annual Kenai Peninsula College Fair on October 17, 2017. KPBSD junior and senior high school students arrived armed with questions, curiosity, and support from their school counselors. Students from local homeschooling programs and private schools were invited to come as well. Representatives from KPBSD and KPC assisted answering financial aid questions and giving scholarship information.
Living in Alaska, along with the cost of travel, can often make college visits difficult for prospective college students. The KPBSD College and Career Fair brings students together with college and career and technical institutional representatives to meet face-to-face in one convenient location.
"This year's college fair was a high quality event for students and college representatives alike. With more than 50 colleges, trade schools, armed forces, and universities from around the state and nation in attendance, the 500 plus students who attended had the opportunity to personally meet with the schools and recruiters to talk about admission requirements and get a feel about what campus life at each of those schools is like," said John Pothast, Director of Elementary and Secondary Education. "This is an invaluable opportunity for our students to explore a variety of options for their post-high school futures."
Fifty plus colleges and institutions were present, including:
Alaska Career College; Alaska Christian College; Alaska Commission on Postsecondary Education (ACPE); Alaska Department of Labor and Workforce Development, Peninsula Job Center; Alaska Pacific University; Alaska State Troopers; APICC (Alaska Process Industry Careers Consortium); Augsburg College; AVTEC; Boise State University; Central Washington University; Chadron State College; College of Fisheries and Ocean Science – UAF; College Saint Benedict-Saint John's University; Colorado Mesa University; Colorado State University; Corban University; Eastern Washington University; Embry-Riddle Aeronautical University; Fort Lewis College; Gonzaga University; Grand Canyon University; Idaho State University; Kenai Peninsula College; Leading Edge Aviation; Lewis-Clark State College; Linfield College; Northern Arizona University; Pacific Lutheran University; Presentation College; Saint Martin's University; Southern Oregon University; Southwestern Oregon Community College; The College of Idaho; The Moody Bible Institute – Spokane; UAA College of Engineering; United States Army; United States Military Academy; Universal Technical Institute; University of Alaska Anchorage; University of Alaska Fairbanks; University of Alaska Fairbanks College of Engineering and Mines; University of Alaska Southeast (Juneau campus); University of Alaska Southeast Sitka; University of Idaho; University of Montana; University of Montana Western; University of Oregon; University of Portland; University of Puget Sound; Washington State University; Washington State University Tri-Cities; Weber State University; Western Washington University; Whitman College; Whitworth University; and Willamette University.
"We are excited to have so many post-secondary institutions visiting our district to meet with our students," said Sean Dusek, Superintendent. "This partnership allows our students to explore their college and career aspirations in a convenient and safe location. This is due to the large number of students in our district that are qualified for post-secondary education."
Links
Thank you to the organizers, institutions, and counselors who make this annual event possible for KPBSD students.