Jul 18
23
The KPBSD Annual Report, a condensed recap of the 2017 -2018 school year!
You have options: flip through the page-turning version, view the report online, or download it to your computer or device.
Tip: When you see the online icon, you can click the story to read the expanded version online.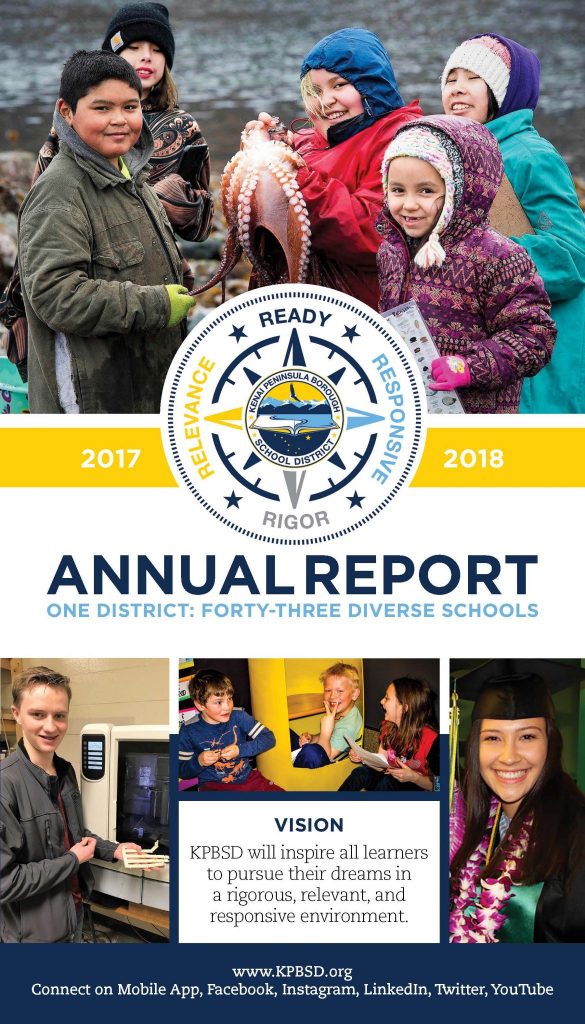 We are pleased to present KPBSD's 2017- 2018 Annual Report. This publication is an opportunity to step back and review last year's accomplishments and highlights, celebrate areas of excellence, and share plans for the new school year.
Our district is on a journey of continuous improvement about how we meet the individual needs of every student. This journey includes preparing students to be ready for life through a rigorous, relevant, and responsive education. In order to accomplish this, we are improving how we personalize learning to provide a wide array of highly engaging experiences for all students. Our district wants every student to be a problem solver, a critical thinker, collaborative, and creative. We will leverage technology to meet student strengths and interests. Students will take greater ownership of their learning and apply content outside of the classroom. Learning is a 24/7 endeavor; we will help students respond to the question "What problem do you want to solve in your lifetime?"
I am honored to serve as KPBSD's superintendent and look forward to another excellent year as we support students throughout their educational journey in the Kenai Peninsula Borough School District. – Superintendent Sean Dusek