Mar 18
26
KPBSD Battle of the Books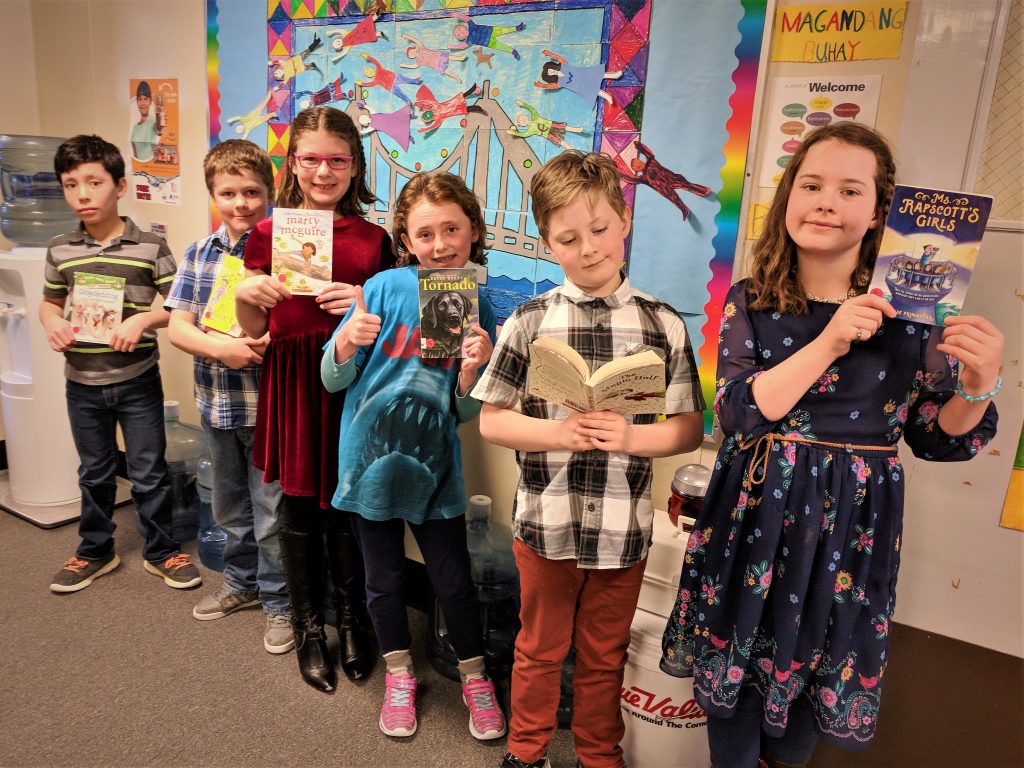 Students of the Kenai Peninsula Borough School District have been participating in Battle of the Books (BOB) for 33 years. The original idea for BOB came from a radio program sponsored by the Chicago Public Library in the 1940s. A school librarian from Illinois, Joanne Kelly, took the idea and used it in her library. Years later the idea came to Alaska with Ros Goodman, a former Illinois librarian, on her way to Kodiak. The idea was piloted by a few Alaskan schools and by the 1984-1985 school year 26 districts were involved. KPBSD was one of those districts and had a state-winning team from Kenai Junior High that year.
KPBSD students, once again, competed valiantly in district and state battles. This year's battles included 61 teams across four grade levels for students in grades 3-12. Students in grades K-2 can also participate, but only at the building level.
Battle of the Books is a statewide reading and comprehension program sponsored by the Alaska Association of School Librarians. The goals of the program are to encourage and recognize students who enjoy reading, broaden reading interests, increase reading comprehension, and promote academic excellence. All this is accomplished through a game-show style competition known simply as "BOB".
Grades K-12 compete

Lists of books are chosen and questions are written for all the grade levels. Students read the books (12 titles for Grades 3-6 and 10 titles for Grades 7-12), quiz each other, learn title and author information, and compete in teams of no more than three students attempting to score as many points as possible answering questions related to the books. Battle questions all begin with the words, "In which book…". Students are allowed thirty seconds to confer with team members and come up with an answer which is always the title and author of a book on the list.
Compete via videoconference
All KPBSD battles took place using Skype for Business to video conference. Students loved being able to "see" the competition. In addition to using Skype for battles, a Battle "Canvas" course was created where coaches accessed all needed battle materials and information and discussions took place. Google was used during battles to report scores and chat with Battle Central (Karla Barkman) when needed. Battle coaches were exposed to many different technologies again this year and did a fabulous job. Our KPBSD student battlers did an awesome job as well. District Battles were held in February with state battles in early March.
Congratulations to the following teams that made it to the final round of KPBSD district competition!
Grades 3 & 4
1st Place – Seward Elementary
2nd Place – Soldotna Connections
3rd Place – Aurora Borealis Charter School
4th Place – Tustumena Elementary
Grades 5 & 6
1st Place – West Homer Elementary
2nd Place (Tie) – Cooper Landing
2nd Place (Tie) – Fireweed
2nd Place (Tie) – Sterling Elementary
Middle School
1st Place – Homer Middle
2nd Place – Kenai Middle
3rd Place – Seward Middle
4th Place – Nikiski Middle
High School
1st Place – Cooper Landing
2nd Place (Tie) – Nikiski High
2nd Place (Tie) – Soldotna High
4th Place – Voznesenka School
State Battles were held the beginning of March. Each of our first place district teams went on to state competition and did a great job finishing! Congratulations to:
Seward Elementary (Grades 3 & 4) – 7th place out of 32 teams
West Homer Elementary (Grades 5 & 6) – 5th place out of 35 teams
Homer Middle (Middle School) – 3th place out of 27 teams
Cooper Landing (High School) – 7th place out of 20 teams
Book lists for next year's battles were chosen by librarians, teachers, and battle coaches at a title selection workshop held during the State Library Conference before spring break. The new lists can be found at the State Battle of the Book's website.
Article contributed by Karla Barkman, District Battle of the Books Coordinator.