Sep 18
7
News Release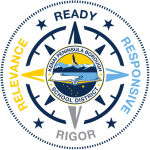 KPBSD schools offer National School Lunch Program
The Kenai Peninsula Borough School District (KPBSD) participates in the National School Lunch Program. Applications for free and reduced meals are currently being accepted, and meals will be available to all children at these schools:

Chapman School; Fireweed Academy; Homer High School; Homer Middle School; Kalifornsky Beach Elementary; Kaleidoscope School of Arts and Science; Kenai Alternative High School; Kenai Central High School; Kenai Middle School; McNeil Canyon Elementary; Moose Pass School; Mountain View Elementary; Nikiski Middle-High School; Nikiski North Star Elementary; Ninilchik School; Paul Banks Elementary; Redoubt Elementary; River City Academy; Seward Elementary; Seward High School; Seward Middle School; Skyview Middle School; Soldotna Elementary; Soldotna High School; Soldotna Prep School; Soldotna Montessori; Sterling Elementary; Susan B. English School; Tustumena Elementary; and West Homer Elementary.
Meals meet nutritional standards set by the U.S. Department of Agriculture. Your KPBSD schools participate in the National School Lunch Program, After School Snack, and School Breakfast Program.
Community Eligible Meals
Students at Homer Flex; Nanwalek; Nikolaevsk; Port Graham; and Tebughna qualify for the Community Eligibility Meal program that allows all students to eat a free meal for both breakfast and lunch. Families with students that attend these schools or attend a school that does not have a National School Lunch or Breakfast Program will not fill out the School Meals Application but will fill out the Income Declaration Form.

Parents and Guardians
If your income is less than or equal to these 2018-2019 guidelines you are eligible for free or reduced-price meals. These guidelines are effective July 1, 2018 through June 30, 2019.
To receive an application for free or reduced-price school meals, or ask questions, contact KPBSD Student Nutrition Services, 139 Park Avenue, Soldotna AK 99669, or call 907-714-8831. Applications cannot be processed and determined until fully completed. Information provided on applications is subject to verification at any time.
If you have children who are approved for Supplemental Nutrition Assistance Program (SNAP) formerly known as Food Stamps, Temporary Assistance for Needy Families (TANF) or Native Family Assistance Program (NFAP), they are automatically able to receive free meals by filing an application that includes their assistance number from one of those programs. Students who are migrant, homeless, or runaways are automatically eligible and do not need to fill out an application. Foster children receive free meals regardless of the income of the household with which they reside. Note: Medicaid and Denali Kid Care case numbers do not qualify for eligibility.
Read the rest of the KPBSD schools offer National School Lunch Program news release
###