Jan 19
9
KPBSD Inspiration, Kersten (Petersen) Gomez, Soldotna High School Class of 1998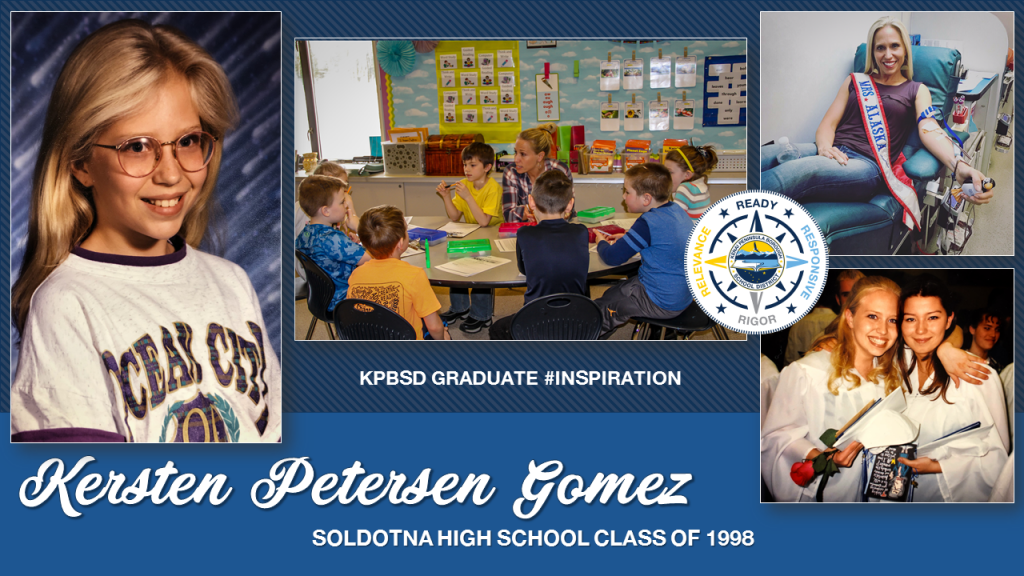 "I was diagnosed with Attention-Deficit Disorder (ADD) as a child, struggled with academics, and was bullied. This took a toll on my self-esteem. I was afraid to put myself out there and try anything new out of a fear of failing and being ridiculed."

–

Mrs. Alaska America 2017, Kersten Gomez, Soldotna High School Class of 1998, and Kenai Peninsula Borough School District elementary educator
This week's KPBSD 1998 graduate inspiration is now an educator in the school district! Kersten (Petersen) Gomez says, "When I was young, after school I would line up all my stuffed animals and teach them what I learned at school that day. I knew I wanted to do something with children even then, but it was not until I watched my mom receive a rose from one of her students at graduation that I knew I would follow in her footsteps and become an educator. I remember the boy telling her that he would not have made it through school without her unwavering support—I wanted to make a difference like she had."
Now in her thirteenth year of teaching in KPBSD, Mrs. Gomez is a second grade teacher at Redoubt Elementary. She graduated from University of Alaska, Anchorage, and Kenai Peninsula College, and began her teaching career at Nikiski North Star Elementary with kindergarten and second and third graders for four years, before moving to Redoubt Elementary.
"My favorite moment of every day is when I stand in the door to greet my kids when they walk in. Their excitement and smiles are contagious, and no matter what kind of day I am having I feel blessed to have the opportunity to spend each and every day with them!"
Married to Terry Gomez, also a KPBSD Soldotna High School Class of 1998 graduate, she knows the effects bullying took on her self-confidence and feelings of self-worth. As a result, she says, "It is important for me to teach empathy and kindness to the next generation of leaders. It is sad to me to see the way adults in our country treat one another. With each class, hopefully I am making a difference that will impact the future."
A big dream for Mrs. Alaska America 2017
Attending Soldotna Middle School and graduating from Soldotna High School in 1998, Gomez explains, "It took me until the age of 37 to follow my dream and participate in the Mrs. Alaska America 2017 pageant. I was diagnosed with Attention-Deficit Disorder (ADD) as a child, struggled with academics, and was bullied. This took a toll on my self-esteem. I was afraid to put myself out there and try anything new out of a fear of failing and being ridiculed. When I won I was shocked, but the experience reminded me that my self-worth is not determined by what others think of me. In the year as Mrs. Alaska America 2017, I volunteered, spoke publically and shared my story, and competed against women from every state across the country at Nationals in Las Vegas, Nevada. It was the most incredible experience I have had and through my year of service, I grew so much as a person and in my self-confidence. If I let fear control my decision making, I never would have had the opportunity to make an impact on the state of Alaska."
To grow in confidence, volunteer
I have volunteered at the Kenai Peninsula Food Bank, Boys and Girls Club of America, the Soldotna Kids public library, and helped collect literature throughout Alaska that is now on its way to the worn torn country of Liberia to build libraries in schools there!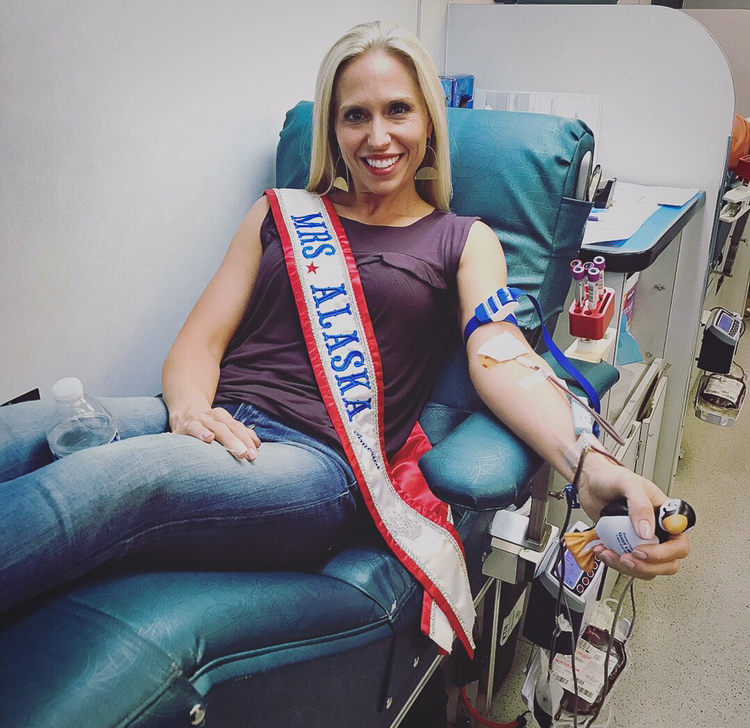 "I tell kids all the time,
'Don't let fear hold you back from what you want to do in life. You can accomplish so much more than you think you can!'"
Links
Do you have a story tip about a KPBSD graduate to profile in our Wednesday Inspiration? Kindly email Pegge Erkeneff, KPBSD communications liaison, Pegge@KPBSD.org.