Apr 19
4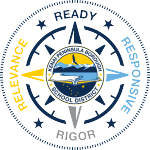 Soldotna High School Principal Graham, Soldotna Prep Principal Schmidt, district administration, and the school board request your thoughts and input about consolidating Soldotna Prep School (9th grade) and Soldotna High School (10th-12th grade) beginning with the school year beginning August 20, 2019.
Current reality
Enrollment is declining at Soldotna Prep and Soldotna High School, so both schools will lose teaching staff in the 2019-2020 school year. In addition to declining enrollment, the current state budget deficit in Alaska will require the KPBSD to adjust high school staffing formulas—raise the Pupil-to-Teacher Ratio (PTR)—which will increase class sizes and reduce teaching staff at both schools.
Academic offerings
To retain essential elective offerings for 9th-12th grade students in Soldotna, and ease the teaching position reductions, Principal Schmidt and Principal Graham believe that now is time to move Soldotna ninth grade students into Soldotna High School. This move would create an economy of scale that will lessen the amount of staff reductions and allow for more core and elective offerings for Soldotna 9th – 12th grade students.
Savings to budget
Moving Soldotna Prep 9th grade students into Soldotna High School, relocating River City Academy (RCA), and closing the building that houses Soldotna Prep and RCA will result in an approximate $630,000 overall annual savings to the district budget expenditures. This savings would come from reduced building operations and personnel costs to operate the current building housing two schools.
Soldotna High School and Soldotna Prep School consolidation meeting
April 11, 2019, meeting, 6:00 PM,
Soldotna High School Auditorium
A community meeting for Soldotna High School, Soldotna Prep School, incoming 9th grade students for the school year beginning in August, and community members, families, and staff will be April 11, 2019, at 6:00 p.m. in the Soldotna High School auditorium. The meeting will be hosted by the school principals and John O'Brien, KPBSD assistant superintendent of instruction.
Survey: Parent, student, and staff survey is open from April 4 – 12, 2019
Kindly participate in the survey to share your thoughts, and participate in the potential fast-track action that will benefit the educational opportunity for our Soldotna area teens.
https://www.surveymonkey.com/r/ZVY7YLR
Kenai Peninsula Borough School District principal thoughts
Tony Graham, Soldotna High School principal:
"We want to provide the best experiences and most opportunities for the students. With the likelihood of an increase to high school pupil-to-teacher ratio and loss of staffing, it will hinder our ability to provide a 10th -12th grade quality education. However, because of economy of scale and staffing formulas, a consolidation with Soldotna Prep 9th grade house would allow us to maintain offerings for 9th -12th grade students that will give them the ability to have a full and rich high school experience preparing them for their future."
Curt Schmidt, Soldotna Prep School principal:
"Research tells us that ninth grade is the most critical point to intervene and prevent students from losing motivation, failing, and-or dropping out of school. At Soldotna Prep (and through partnership with Soldotna High School) we have done an excellent job to create a school that consistently leads to increasing graduation rates for ninth graders. However, faced with the near certainty of reduced staffing (due to declining enrollment and a loss of state and local funding) our community may be facing a scenario where our school district can no longer support Soldotna Prep in a standalone environment. Under these unfortunate circumstances, we have reached a tipping point that requires us to examine consolidation with Soldotna High School if we are to continue to offer education programming that includes a broad variety of electives, effective intervention programs, and utilizes proven strategies that we know motivate and encourage 9th grade student success."
Sarge Truesdell, Skyview Middle School principal:
"At Skyview Middle School we created a high school academic schedule with a middle school climate. We use this two-year transition from elementary to high school as a learning experience in preparation for the demands and the rigor of the high school. Over the past five years, the ninth grade Soldotna Prep School has helped our students by intervening during this critical first year of high school. The data has shown that Soldotna Prep School has helped raise graduation rates and success for ninth grade students in the Soldotna area. With the uncertainty of the state budget and declining enrollment, the school district may no longer be able to provide this standalone ninth grade school. If consolidating the Prep School into Soldotna High School is necessary to broaden the elective, intervention, and advanced options for our ninth graders, then I am confident Mr. Schmidt, Mr. Graham, and their teachers will use the strategies and successful ninth grade model to make sure our students are successful in a 9th – 12th grade high school."
Dawn Edwards-Smith, River City Academy (RCA) principal:
"I've discussed with our students and parents the possible closure of the Soldotna Prep building, and the potential need for RCA to move. The district is working to find us a location, should we need it. In the eleven years I have been at RCA, we have moved a number of times. In each of those new spaces, we have built positive partnerships and used the opportunity to evolve. At RCA, we value improving our work through revision or iteration cycles. Changing location or changing space is just one more way to iterate how we do business. With each move, we have maintained our central mission, core values, positive school climate and family atmosphere."
###