Apr 19
23
"What can I do, invent or create to better care for the environment of the Kenai Peninsula or improve the area's preparedness for a natural disaster?"
In the 29th year of the competition, on April 18, 2019, Homer High student Austin Cline took first place honors and a $1,600 cash award in the annual Caring for the Kenai environmental and natural disaster preparedness contest.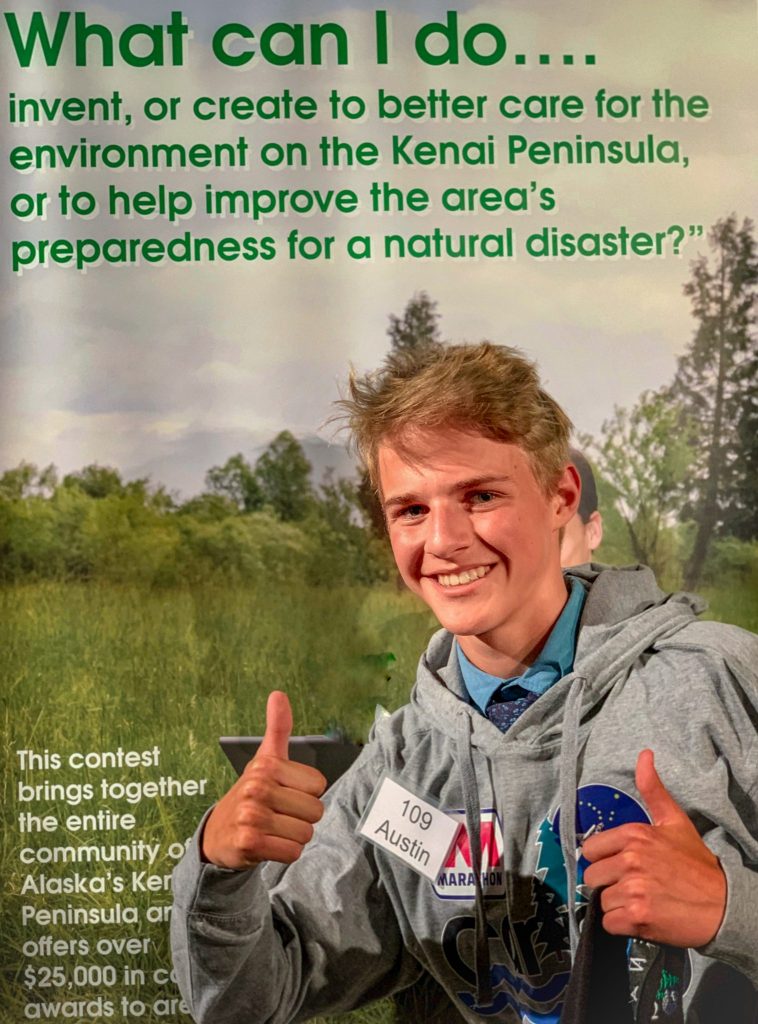 Austin's proposal to recycle plastic waste into 3-D printer filament wowed the crowd and judges at the Kenai Central High School Little Theater. Cline explained:
"It's a simple process that I already have grants for … it's to turn plastics into 3-D printing material."
Taking second place and earning $1,100 was the team of Lindy Guernsey and Akilena Veach from Seward High School. Lindy and Akilena demonstrated a working drone which they had built at school, using 3-D printers. The girls use the drone to survey Seward's floodplains. The girls' work has supplied the Seward Flood Board with crucial data to help prevent property damage during flooding events.
Lindy said:
"We worked with our outward bound program and built the drone then we heard about Caring for the Kenai and our science teacher encouraged us to enter."
Akilena added:
"We learned how to fly the drone on a computer simulator after we built it, we've flying for three years we've been working with younger students so the program will continue after we graduate."
In third place and claiming a $900 prize was Connections home school student Anna DeVolld. Anna will be visiting local Chamber of Commerce and Rotary Club meetings to share information about the role of pollinators in our ecosystem. As part of her presentation, Anna shared a 'Pollinator Pack' she has developed; a cluster of plants which support pollinators like bees and bats. These packs of plants will also be distributed to Chamber of Commerce and Rotary Club members, "I'm also giving educational programs about pollinators to increase awareness of how important they are to our community, our salmon runs and food production. I'll be using my prize money to fund my pollinator packets. I learned a lot of my computer skills because of my CFK idea," said 13-year-old DeVolld.
Taking fourth place honors and $750 was Homer High student Vianne Sarber. Vianne used her incredible skills in art and graphic design to create a children's storybook titled 'Sophie Saves the Sea.' Vianne plans to publish the book through Kindle. "I'm incredible grateful to Mr. Stineff for assigning CFK to me. I allows me to learn and use my skills to make a difference," said Sarber.
With a catchy (and original) rap, Jacob Topp took 5th place with his rap to remind people about 'Nice Ice Safety.' The rap, set to Vanilla Ice's 'Ice, Ice Baby,' is designed to be played over the radio and promote a Facebook page with regular ice safety updates.
The team of Landon Vyhmeister and Josiah Nunn won 6th place and a $550 prize with a video game they developed. The project, titled 'R.I.S.E. U.P.', challenges students at different age levels to survive various natural disasters. The boys are working to have their game included in school curriculum.
Finalists who earned $400 each for making it to the final 12 out of 400 plus entries are:
Dylan Duniphin, Kenai Central High School, Nutrient Runoff
Melita Efta, Kenai Central High School, Coloring On the Kenai
Olivia Ferguson, Rebecca Okonek, & Autumn Calabrese, Ninilchik School, Worms Are Sexy
Riley Graves, Kenai Central High School, Magnetic Beach Rake
Justin Hansen, Soldotna Prep, The Trails Initiative
Shawna Hudson, Kenai Central High School, Solution For Pollution
"Caring for the Kenai is a special opportunity for our students to showcase their ingenuity, problem solving skills and creativity," said Superintendent of Schools Sean Dusek. "This year's competition was another wonderful year of our students showcasing these talents in extraordinary ways! I am very proud of the students and their teachers who worked hard to not only develop projects that extended their classroom learning, but who are also are having meaningful, positive impacts in their communities. I am proud to have been associated with such a fantastic program that supports our students in so many ways."
The CFK essay prompt challenges high school students to respond to the question "What can I do, invent or create to better care for the environment of the Kenai Peninsula or improve the area's preparedness for a natural disaster?" The contest, administered by the Challenger Learning Center of Alaska, was assigned this year in Kenai Peninsula freshman biology classrooms, with one home school student and at least two high school students entering voluntarily.
In addition to the $8,000 in cash awards for the finalists, this year $20,000 will be awarded to the school's science departments. Thanks to the CFK signature sponsor Marathon Petroleum Corporation and the community partners Kenai River Raven Lodge, Hilcorp Energy, Peninsula Community Health Services, ConocoPhillips, Sweeney's Clothing, and Peninsula Radiation Oncology Center.
High schools using CFK as part of state standards curriculum were: Cook Inlet Academy, Kenai Central High, Homer High, Nikiski High, Ninilchik School, Razdolna School, Seward High, Soldotna Prep, and several home school students. Students can enter every year of their high school career, whether the contest is assigned in class or not.
Each school receives $750 for their participation and the remainder of the $20,000 will be allocated according to how the school's students ranked in the CFK competition. Additionally, close to 20 students will receive special recognition awards from local businesses and individuals.
This year's contest was noted for its unusually high scores and number of students who have already implemented their ideas.
In addition to cash awards the finalists receive the 2019 CFK hooded sweatshirt and beanie. On Saturday, April 27, 2019, finalists, teachers, and guests will attend the CFK V.I.P Awards banquet hosted in their honor by Marathon Petroleum Corporation at the Challenger Learning Center of Alaska.
All the nearly 400 participants that entered the contest will receive a CFK beanie for their hard work and creativity. This year's oral presentation judges included Dr. Nels Anderson (Mayor of Soldotna), Cameron Hunt (Marathon Petroleum Corporation), Pegge Erkeneff (Kenai Peninsula Borough School District Communications Liaison), Dan Nelson (Kenai Peninsula Borough Office of Emergency Management), Marnie Olcott (Challenger Learning Center CEO), Dick Erkeneff (Kenai River Raven Lodge), Robin Barry (ENSTAR Southern Division Manager), and Carlee Rizzo. Caring for the Kenai is administered as part of the Challenger Learning Center of Alaska educational programs.
Links