May 20
8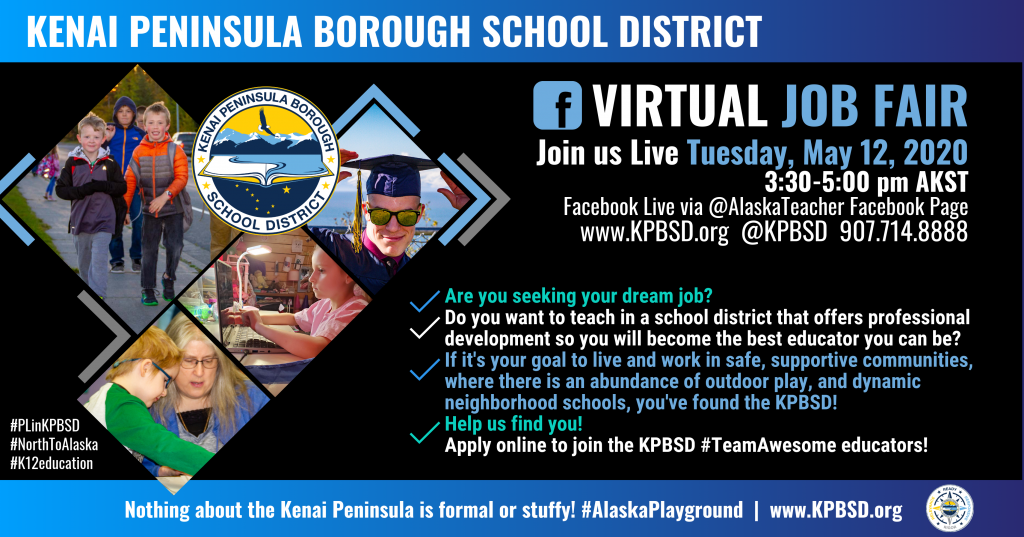 For 90 minutes on Tuesday, May 12th, tap into the Alaska Teacher Placement Virtual Job Fair (VJF) with guest Kenai Peninsula Borough School District! Join us from 3:30-5:00 PM AST, Tuesday. May 12, 2020.

Kenai Peninsula Borough School District Virtual Job Fair
Host (s): Kevin Downs, Student Support Services Program Coordinator and Sarge Truesdell, Principal, Skyview Middle School, and backup crew ready to respond to your questions and comments during the live stream event.
When: Tuesday, May 12, 2020, 3:30-5:00 pm AST (7:30 – 9:00 pm EDT)
Time Zone Conversion: (Click here to convert event time!)
How to Participate: ATP Facebook Page
KPBSD Hosts during the Virtual Job Fair
Kevin Downs has been an educator in Alaska for twenty-two years. The first four years were in Point Hope, Alaska, working with the North Slope Borough School District. Since then, he has continued his career working with the Kenai Peninsula Borough School District going on eighteen years—six as a middle school special education teacher, and twelve as a special education program coordinator at the district level. He thoroughly enjoys his time as an educator in Alaska, and finds KPBSD to be an incredible place to work, and the Kenai Peninsula itself, to be an amazing place to raise children and grow strong roots as a family.

Sarge Truesdell has worked in the KPBSD as a teacher, coach, and administrator for twenty-two years. Nine of those years were as a middle school teacher, four as an assistant principal, and he has been a middle school principal for nine years now. Sarge says the Kenai is an amazing place to work, live, raise our family, and play.

The Kenai Peninsula Borough School District is especially interested in chatting on the ATP Facebook page with teachers, counselors, and administrators about the following openings:
Valuable links:
The Facebook Live is a great opportunity to connect directly to the HR decision makers with our school district. Bring your questions, and tune into the ATP Facebook Live stream. This event will be recorded for archived viewing.
KPBSD is not able to sponsor foreign teachers for H1 or J1 visas.
"I am thrilled that you are considering employment with the Kenai Peninsula Borough School District! We are located in a beautiful part of southcentral Alaska and one of the more unique and progressive districts in our great state. Our schools, ranging in size from a K-8 building of 16 to a traditional high school of 600, offer our students a strong education that prepares them for life after graduation. The 1,200 KPBSD dedicated staff members are committed to continuous improvement that embraces our strategic plan goals in academic success, organizational excellence, and community and family engagement. Should you work with us, you will be joining an exciting and successful team of top notch educators who do what it takes to help our students find success."

–John O'Brien, Superintendent of Schools
"I will be watching live and responding to questions in the comment thread during the Facebook Live Virtual Job Fair, together with Laurie Wood, our human resources recruitment specialist. We are excited that you are interested in our school district and may potentially join our phenomenal team of educators!

Our diverse K-12 district is a leader in Alaska and at the forefront to support our teachers' instruction—especially in this new time of remote learning. We strive, every day, to prepare our students for their future in a rigorous, relevant and responsive learning environment. Our students perform at or near the top in any standardized test required of them. They are creative thinkers and problem solvers. Our staff focus is to enhance student skills in critical thinking, collaboration, communication, and creativity through personalized learning. This focus only happens in a culture of continuous improvement with high expectations of staff. Our school district makes a commitment to meet these high expectations through professional development for our staff, and ongoing striving to be an innovative, world class school district.

–Pegge Erkeneff, KPBSD Director of Communications, Community, and Government Relations


About the District

The Kenai Peninsula is 25,600 square miles, with 17 distinct communities, and 42 schools. You'll find neighborhood schools, village schools, a home school program, charter schools, K-12 small schools, and a performance based school. An estimated 58,522 (2018) residents live on the Kenai Peninsula. Southcentral Alaska offers year-round outdoor adventure, mild summers, and relatively warm winters. You can live near glaciers, on salt water, rivers, or lakes. Outdoor activities are plentiful and include fishing, hunting, hiking, camping, canoeing, clamming, birding, berry picking, wildlife viewing, ice skating, sled dog mushing, and more! Art, music, native culture, sports, wildlife centers, and museums are integral parts of the diverse Kenai Peninsula communities. Local industry includes oil and gas, a vibrant medical community, commercial and sport fisheries. The climate is mild in contrast to the interior and northern Alaska. Our winters last a month or two longer than the Lower 48. December temperatures average in the mid 20's, and our summers are brilliant, with nearly 24-hour sunlight, and a lush, green landscape.

Located south of Anchorage, nothing about the Kenai is formal or stuffy. In fact, no other destination offers such an up close and personal Alaskan experience. That's why we are known as Alaska's Playground! This map shows links to a detailed Google Map view of the 42 KPBSD school locations.
Important Alaska Job Search Links
Kenai Peninsula Borough School District website: www.KPBSD.org
Open positions in the KPBSD
ATP Website & Applitrack Job Bank
Education job postings from all Alaska school districts!
http://www.alaskateacher.org/

ATP Forum – Ask Questions & Search Advice
http://www.alaskateacher.org/forum/

Facebook Live Streaming Event Format
You will need a free Facebook account to actively participate in ATP's Live Chats. Once you create that account, you can use it to log in and ask the presenters questions. Anyone can watch the video stream, and observe the chat. If you would like to ask a question or introduce yourself, it is very easy to sign into the comment or post your reactions in real time.

ATP Live Chat on Facebook
https://www.facebook.com/AlaskaTeacher/