Nov 20
16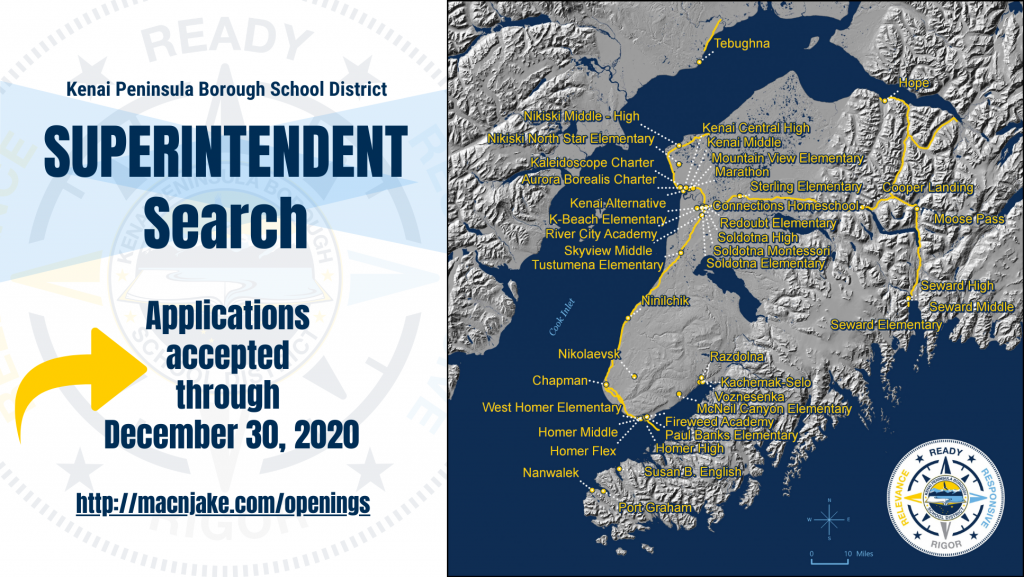 News Release
Soldotna, November 16, 2020—The Board of Education of the Kenai Peninsula Borough School District (KPBSD) seeks an excellent educational leader to become the next Superintendent of Schools. Applications will be accepted through December 30, 2020. The Board of Education accepted Superintendent John O'Brien's retirement in July, and approved their Superintendent Search Oversight Committeeat the May 6, 2020, board meeting. The detailed position description, brochure, and application details are online at https://bit.ly/2IHuW8e, and the position will begin July 1, 2021.
Application and Timetable
McPherson & Jacobson LLC is facilitating the search. The KPBSD Board of Education established a timetable for the superintendent search:
Application closing date: December 30, 2020
Selection of Finalists: Week of January 18, 2021
Onsite Finalist Interviews with Board: Week of January 25, 2021
Selection of new Superintendent: February 1, 2021
Start date: July 1, 2021
A survey requesting community, staff, student, and family input will open in mid-November.
Qualifications
The successful candidate must have the background, skills, and abilities essential for excellence in educational leadership. They will be:
An experienced leader with a strong sense of compassion, open mindedness, and someone who embraces cultural diversity. They will maximize the skills and abilities of staff members, with outstanding soft skills to lead staff in continual improvement and meaningful change
An individual who will work closely with the KPBSD Board of Education, and build trust relationships among and between staff and community, so the entire school district feels heard and included
A fiscally sound instructional leader who has a strong background in curriculum and instruction, who understands personalized learning (PL), and is skilled in social emotional learning (SEL)
An optimistic, inclusive, collaborative leader who is goal oriented and trusts staff to work together to accomplish the school district goals using different methodologies and pathways
A spirited and adventurous individual who will enjoy and embrace the majestic beauty, cultural, and recreational opportunities which the Kenai Peninsula has to offer
A leader with superior communication skills and who will be a positive vocal advocate for the KPBSD, students and staff, on local, state, and national levels
To apply
Application Link: macnjake.tedk12.com/hire/index.aspx
Announcement of Vacancy: Download the Superintendent Search brochure
McPherson & Jacobson LLC | Lead Consultant: Dr. Steven Lowder
Application Deadline: December 30, 2020 (11:30 PM CST)
Contact or visit McPherson & Jacobson LLC for detailed information about the superintendent search including the position description, qualities, and time line
www.KPBSD.org offers additional information about the district, schools, and communities
The Kenai Peninsula Borough School District is one of the top performing K-12 school districts in the State of Alaska, and encompasses 37 communities within 25,600 square miles, educating nearly 8,500 students. Four of the district's schools are accessible only by water or air, and the 42 diverse schools include neighborhood schools, K-12 schools, alternative schools, charter schools, a performance-based school, and Connections Homeschool.