Feb 21
25
Upstream Academy Goes Remote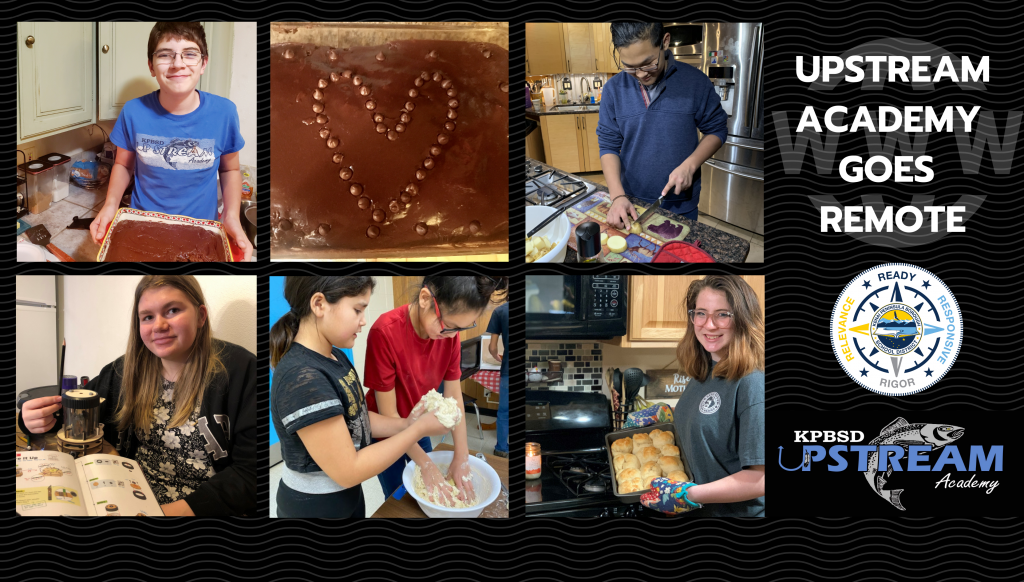 In a "normal" February, KPBSD Upstream would be in full swing, with the Upstream Medical Tech Academy starting soon, and plans in the works for Upstream Marine and Upstream Drone. Safe school operations during COVID-19 put Upstream in person academies on hold. However, even though students are not staying at the Challenger Center for a full five days to build robots, many have been building, baking, and creating some pretty amazing projects in this year's Upstream Remote program.
KPBSD Upstream Rachel Pioch explains, "It all started with Cherry Chocolate Cake and students' interest in learning how to bake. Since Upstream began in the Spring of 2017, students have asked to learn how to cook. I decided to start with a family favorite, my mom's Cherry Chocolate Cake. From there, activities branched out to painting with Annaleah Karon, KPBSD Effective Instruction Coach, and building hand-crank flashlights from KiwiCo. In the course of four months, students will have been able to bake cakes and rolls, make fudge and taco tatoes, paint pictures and Christmas ornaments, build hand-crank flashlights and pencil sharpeners, make geometric candles, and tie fleece blankets, all on Zoom.
The fact that all of this could be done via Zoom surprised students and staff alike. Who knew you could paint and bake over Zoom? Nevertheless, like the rest of the world, students and staff are finding that they are learning new skills and growing in their creative and problem solving abilities. In addition, parents have commented on how the remote activities have helped their students socialize with others and have something for their students to look forward to do!
So how does it work? Every month, Upstream staff send out a list of activities for which students can choose to signup for and participate. Once signups are completed, kits are packaged and delivered to students at their school, Connections office, or in some cases, at their home.
Who has been involved? Any student who has participated in Upstream Academy can participate. This means the Zoom sessions may have students from Port Graham, Nanwalek, Homer, Nikiski, Soldotna, Sterling, Tyonek, and everywhere in between. Students enjoy seeing each other and at times, offer tips to each other. When making the geometric candles in January, many students got creative with essential oils they had on hand at home, and offered different combinations for each other to try out.
In addition, while participation has dropped off a bit since students have returned to school full-time, which staff expected, there is a cohort of students wanting to bake, build, and create every time Upstream Remote meets. In fact, students and parents have requested that even when things are back to normal and Upstream Academies are being held again, that Upstream Remote would still continue in some form. Activities will continue this school year, while there is student interest.
If you'd like to learn along with Upstream students, feel free to check out the students' most favorite recipe: Taco Tatoes. Recipe and video are linked below."