Mar 21
5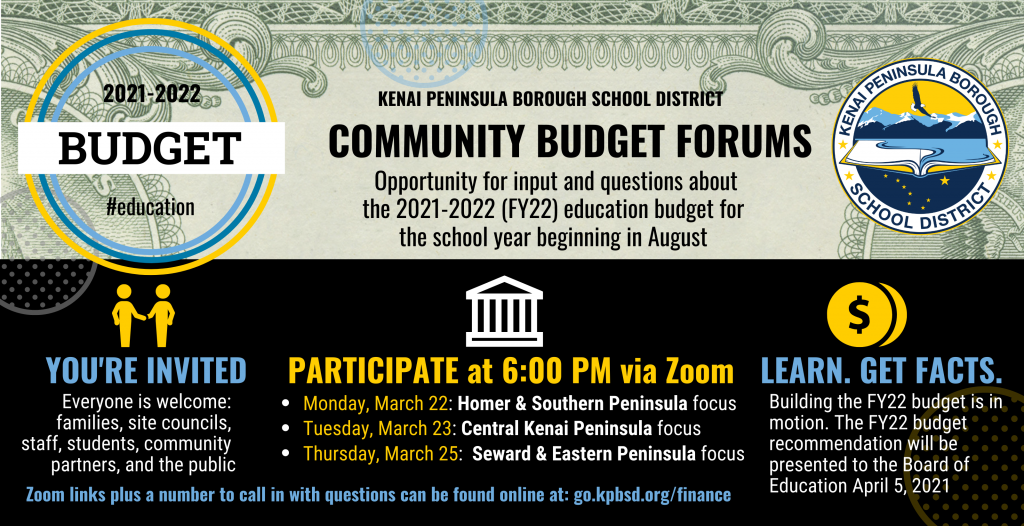 News Release
Community Budget Forums: planning for the 2021-2022 school year
Update 3-15-21:
The session scheduled for Seward has changed to Thursday, March 25, 2021. The initial date announced was March 18, 2021.
Soldotna, March 5, 2021—Public involvement and input for the school district budget counts. District administration will meet with site councils and everyone interested in K-12 education to present the nearly $140 million preliminary budget for the school year beginning in August.
Three Community Budget Forums in March begin at 6:00 PM, via Zoom
An opportunity for input and questions about the 2021-2022 (FY22) budget, plus time to learn and get the facts. Site-councils, parents, staff, students, business partners, community members, and elected officials are encouraged to participate.
Homer & Southern Peninsula school focus: Monday, March 22, 2021, 6:00 PM
https://kpbsd.zoom.us/j/87931342207
Central Kenai Peninsula school focus:
Tuesday, March 23, 2021, 6:00 PM
https://kpbsd.zoom.us/j/87555387317
Seward & Eastern Peninsula school focus: Thursday, March 25, 2021, 6:00 PM
https://kpbsd.zoom.us/j/89364054042
*This was initially scheduled for March 18, 2021, and changed to March 25.
If someone is unable to connect via Zoom, a telephone audio-only option is available by dialing 206.337.9723 and entering the meeting ID
"At the community budget forums, we will review the 2021-2022 (FY22) preliminary budget. Staff, parents, students and community members will have an opportunity to learn about our budget, provide input, and ask questions."

Liz Hayes, Director of Finance, Kenai Peninsula Borough School District
On April 5, 2021, the budget recommendation for the 2021-2022 school year will be presented to the KPBSD Board of Education during the evening meeting, and then transmitted to the Kenai Peninsula Borough on April 6, 2021.
Links
The Zoom links and the number to call in with questions are online at go.kpbsd.org/finance
Visit the KPBSD Finance Department webpage for documents, budget development information, previous year data, and new budget information updates