Mar 21
16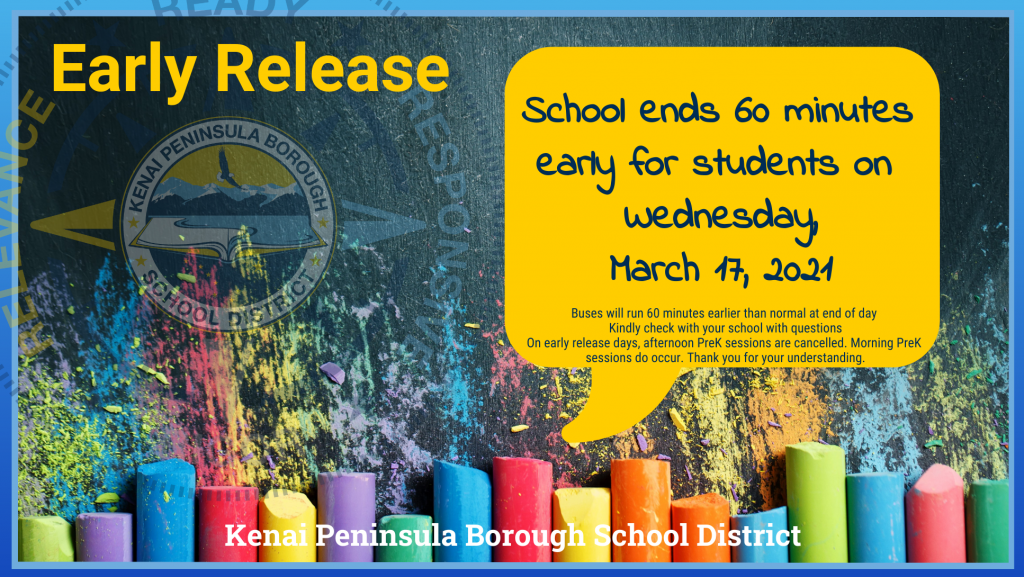 March 17, 2021: early release changes to 60 minutes from normal end of school day time, instead of 90 minutes, in order to meet the state requirement for a minimum student instructional day. Check with your school for the exact release time. Bus routes will be adjusted accordingly. PreK Note: on early release days, all afternoon PreK sessions are cancelled. Morning PreK sessions do occur. Thank you for your understanding.
April 21, 2021
Normal (not in a pandemic) School Year Early Release Details
Six times throughout the school year, KPBSD school days will end ninety minutes early for students, in order for teachers and instructional support staff to collaborate.
Students will meet the minimum day requirement, leaving teachers with approximately ninety minutes of additional time to work on improvement strategies. The length of the school day on the following six days will be reduced by ninety minutes, for a total of nine hours during the school year. On these early release dates, school will end ninety minutes (1.5 hours) earlier. Bus transportation will be adjusted by ninety minutes.
We recognize families may need to make arrangements on the early release dates, and thank everyone for the willingness to help our KPBSD schools improve through these six early-release dates.
Please contact your school principal with questions.
Additional information:
Schools will have further details based on school schedules
Transportation: our transportation contract is by the day and allows us to modify the time and number of routes. Thus, the change for the one day per month will not cause an increase in transportation costs, and time is simply adjusted by the 1.5 hours
The school calendar clearly notes the minimum days so you can plan accordingly
PreK Note: on early release days, all afternoon PreK sessions are cancelled. Morning PreK sessions do occur. Thank you for your understanding.
The school district will review the efficiency and effectiveness of the early release opportunities mid-year and at the end of year
Links:
KPBSD Mobile App (Check the district calendar for early release dates, then simply add directly to your smartphone calendar!)