Nov 21
4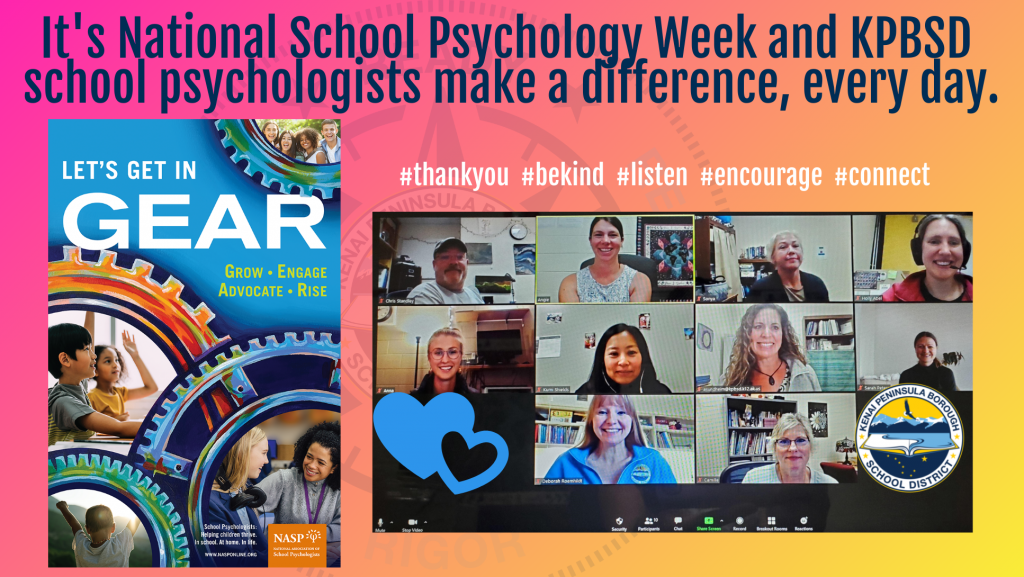 Let's get in GEAR and celebrate KPBSD school psychologists every day, and especially during National School Psychology Week
Eleven school psychologists working in the KPBSD provide a range of services to support students' academic achievement and social–emotional well-being. They collaborate with staff and students, provide suicide prevention classroom presentations, respond to critical incidents, provide feedback on district policies, assess individual students, participate in meetings with parents, and grow as professionals.
During the week of November 8–12, 2021, schools throughout the country will celebrate National School Psychology Week to highlight the important work school psychologists do to help students thrive.
The 2021 theme is "Let's Get in GEAR." (Grow, Engage, Advocate, Rise). The theme's acronym provides a challenge to grow personally and professionally. It encourages school psychologists to engage in best practices and advocate for children's access to mental health and learning supports. To rise implies resilience and renewal despite the challenges of the past.

This has a particular resonance this year as we work to help students, families, and school staff emerge from the challenges of the past year and a half. When we get in gear, we move together. When one gear moves, the gears connected to it move as well. When we move together there is a positive synergy that builds and becomes greater than any single effort.
"As with all school-based professionals, we are most effective in our work through collaboration with other school staff, families, and members of the community. National School Psychology Week is part of an ongoing effort to improve collaboration and foster the common elements of a thriving school community in KPBSD to help all students grow and succeed. We are fully committed to working with you and the rest of the KPBSD's staff to continue to energize and empower our students on a daily basis." –Angie Nelson, KPBSD School Psychologist