Dec 16
6
#KPBSD State Championship of Teaching!

Stephanie Cronin [Seward High School] is
2017 Alternate Alaska Teacher of the Year!
"The staff and students of Seward High, and entire community, could not be more proud of Ms. Cronin and her amazing accomplishment," said Trevan Walker, Seward High School principal. "It's gratifying to know that she is recognized, at the state level, for that which we have always known in Seward … that her Positive Math Attitude (PMA) has resulted in years of Seward High graduates who share her passion."
Ms. Cronin will serve as Alaska Teacher of the Year if Mr. James Harris (2017 Alaska Teacher of the Year)  is named national Teacher of the Year. She has been teaching mathematics and engineering at Seward High School for 17 of her 19 years in the profession. A leader in our district and the community, she serves on committees for effective instruction, teacher evaluation, professional development, assessment, curriculum, and educational technology, the school site council, and the local Native Youth Olympics.
Reached by telephone, Cronin said, "I am humbled and honored to be selected as the 2017 Alaska Alternate Teacher of the Year. I'm proud to represent the amazing teachers of the State of Alaska." A celebration assembly will take place at Seward High School on December 15, 2016.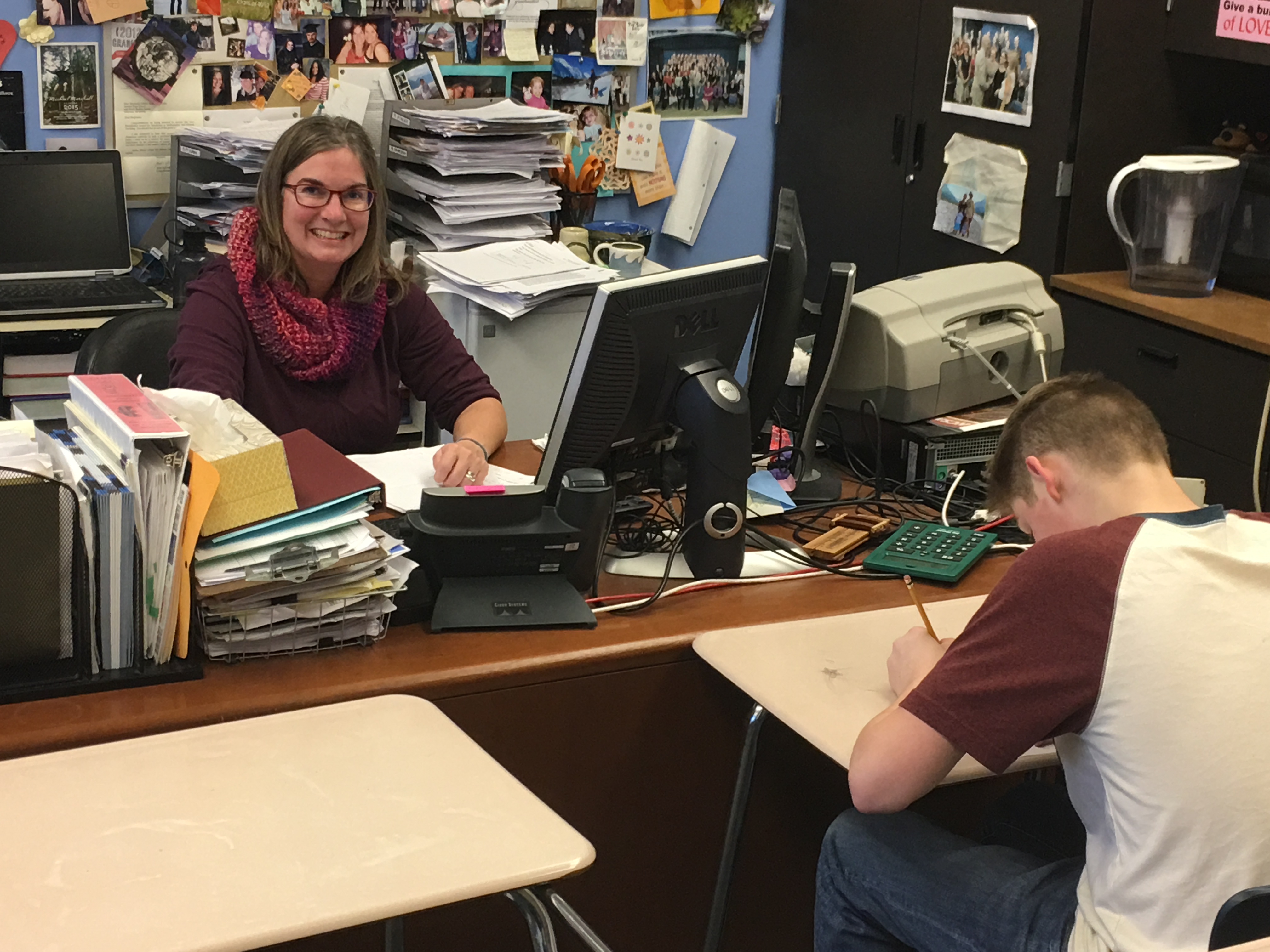 Cronin says her greatest contribution to education is her impact on students, which is based on respectful, close relationships. Her passion is to show students the beauty and possibilities of mathematics. One student wrote that Ms. Cronin planted the seed that it's okay to be excited about mathematics. "She increased my positive math attitude exponentially," the student said, mathematically. She is a leader in Seward High School's technology-heavy hybrid model, which offers students many ways to earn credits, videotaped lectures to make the most of class time, and online parallels to courses so students have some control over where and when they learn.
The 2017 Alaska Teacher of the Year is also from the #KPBSD, and Superintendent Sean Dusek said,
"This is the State Championship of teaching! We are excited and humbled to have two of our teachers recognized as the best in our state! Congratulations to Mrs. Stephanie Cronin for being the alternate this year. She is and always has been an outstanding teacher. As for our new 2017 Alaska Teacher of the year, Mr. James Harris, I am very pleased his great effort with our students has been recognized at the state level. He is an excellent representative of the teachers in our district! It is truly a great day in our district as both of these outstanding individuals have earned the highest honors in our state."
Ms. Cronin holds a bachelor of science degree in economics from the University of Minnesota. She holds three degrees from the University of Alaska Anchorage: a bachelor of science degree in mathematics, a master of arts degree in teaching, and a master of arts degree in educational leadership.
Past Teachers of the Year from KPBSD include:
1999 – Daniel Walker, Seward Middle-High School
1988 – Sammy Crawford, Soldotna High School
1976 – Gary Woodburn, Cooper Landing School
Links
Webpage: Alaska Teacher of the Year
October 22, 2016 Commissioner Johnson Announces Finalists for Teacher of the Year
October 22, 2016 KPBSD story: two KPBSD educators named Teacher of the Year Finalists
Kenai Peninsula Borough School District
Contact: Pegge Erkeneff, 907.714.8888
News Release