Apr 21
22
Seward Middle School Teacher, Becki Dixon, Wins America's Most Prestigious History Award!
Story contributed by The Seward Middle School Tail Flipper journalism students, Maria Bunch [8th Grade], and Lola Swanson [7th Grade]
Rebecca (Becki) Dixon of Seward Middle School has lived in Seward for 12 years and taught at the middle school for three years. This year, she was chosen for the James Madison Memorial Fellowship on April 19, 2021.
Only one history teacher from each state is eligible to win this award!
According to the James Madison website, the goal of this award is to prepare secondary history, government, and civics instructors to become excellent teachers of the U.S. constitution. This award gives teachers $24,000 that can be used to earn a master's degree in history.
Having received this award, she is ready to continue pursuing her passion for teaching history. Mrs. Dixon says she's going to pursue her dream and get a master's in history at Norwich University in Vermont. She started her teaching career at the age of 32 at SNHU, also known as Southern New Hampshire University, with a bachelor's degree and continued with a Master's at UAS also known as The University of Alaska Southeast in education. The James Madison Fellowship is a very special award and is only given to one teacher from each state. Mrs. Dixon won it for the state of Alaska.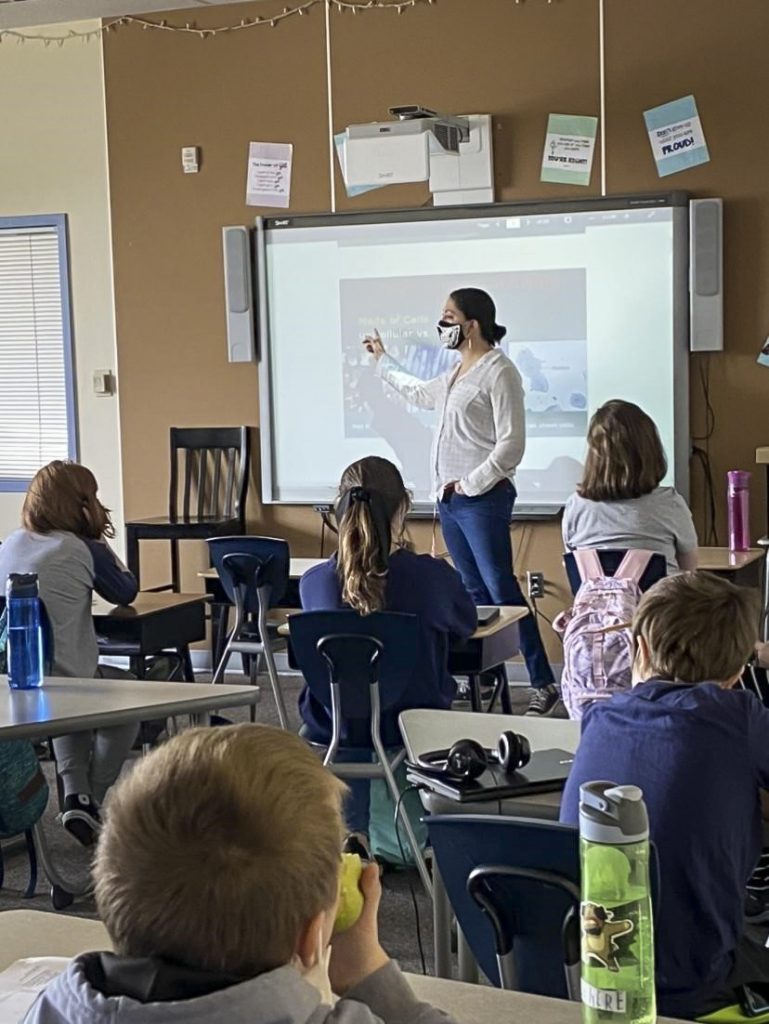 Students adore Ms. Dixon and her teaching methods, so we decided to ask some kids and staff what they think about her:
"I like how she can sometimes be sassy but she can also be nice."

"She switches it up all the time."

"One day we will do work and the next we will do an art project."

–SMS student voice
Mrs. Dixon is an excellent teacher, and she definitely deserves this because she puts so much time, effort, and emotion into teaching. Congratulations Mrs. Dixon!
In her words…*
Becki Dixon, She/her/hers
Seward Middle School 6th Grade Teacher
What comes next?!
"Now that I have received the fellowship, I will be applying to Norwich University for their Master of History program. The fellowship has awarded me $24,000 to help cover that cost over a period of five years while I complete my masters. I will also attend a summit in Washington DC to explore the U.S. Constitution, and how I can apply the study of it to the classroom. This will be a month long summit during the summer."
"Never stop pursuing your passion. Know that it won't always be easy or attained right away, but keep pushing forward and you'll get there."
Influences and inspirations
"My grandmother, who was also a teacher, really inspired me to teach. Originally, I had plans of a law career, but after taking prelaw classes, I realized it wasn't for me. I had already spoken to my grandmother about my love of coaching (basketball is another huge passion of mine). She told me most coaches are teachers so I decided to take that route. So glad I did!"
Guiding perspective
"I've always felt that social studies is primarily seen and taught from one perspective. As a minority and a woman, I would like to see differing perspectives brought to the light as a way to see history from all sides. I am hoping that by getting my Masters in History, I will be able to bring those perspectives that are not necessarily seen or heard."
A favorite aspect of work, lightbulbs!
"I love working with students one-on-one. I love being able to just sit down with them and break an idea or concept down with them. Then to see when the lightbulb goes off is just incredible. Hands down my favorite part of my job!"
#ThankYou
"I am thankful for Myla Liljemark, social studies teacher at Seward Middle School. She has really pushed me to think outside of the box when teaching social studies to students. She has also really encouraged me to use my own experiences as a way to guide my lessons. I see her passion for teaching and wish for my students to see that kind of passion from me."
*Becki Dixon offered these thoughts via email to KPBSD.
Links