Oct 21
13
Celebrate! On September 25, 2021, during the annual Alaska Speech-Language-Hearing Association (AKSHA) convention, excellence in the Kenai Peninsula Borough School District was highlighted, with current and retired staff receiving the Sourdough Award, Red Lantern Award, and the Lifetime Member Award with 20 or more years of outstanding history in clinical practice!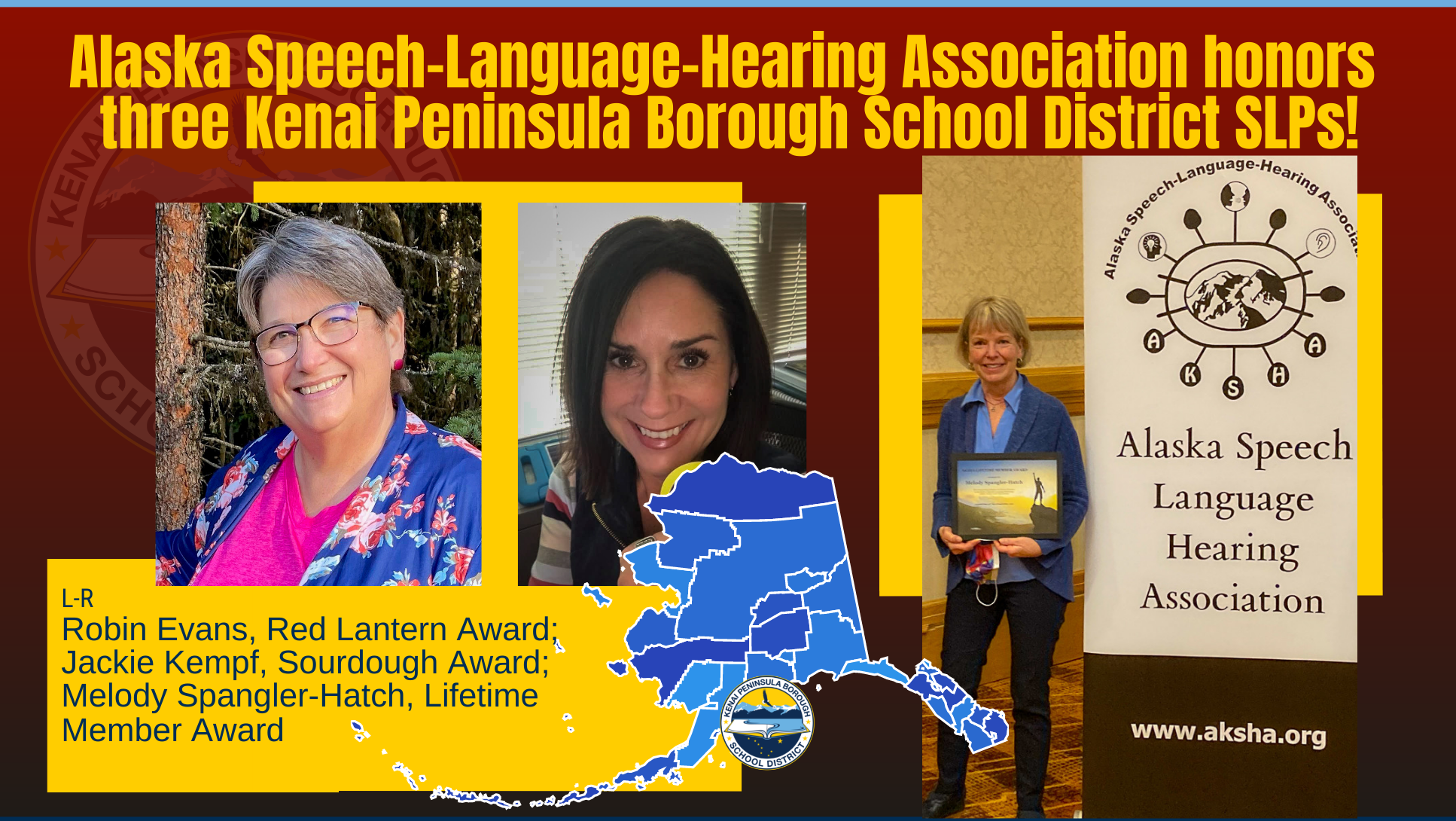 "The KPBSD is so fortunate to consistently have an outstanding speech department for our students. Our quality speech pathologists have energy and compassion, and continue to rise above any challenge that is presented. These awards and recognitions prove just that. I have worked closely and seen firsthand how their knowledge and expertise has been an integral part to help special education teams collaborate and assist students with the wide variety of communication needs in our school district. This statewide recognition is well deserved, and I feel honored to work with these fine individuals."

–Amy Hagen, KPBSD Director of Student Support Services
Jackie Kempf, Speech Pathologist, received the Sourdough Award for outstanding contributions in SLP or Audiology!
The Sourdough Awardrecognizes an Audiologist and-or Speech Language Pathology (SLP) who demonstrates long-term dedication to issues in the state, advocacy, leadership, or outstanding clinical practice.

Over her career, Jackie Kempf has done an excellent job as a therapist and achieved a strong reputation as a school-based practitioner. A particular strength is working with students with significant communication delays and building language abilities from the preschool setting through 6th grade, specifically with children on the Autism Spectrum and with significant early developmental delays. Jackie has incorporated many integral elements of speech therapy, including PECS, Aug Com systems, visual supports, functional play and school routine mastery, pragmatic skills building, and narrative retell strategies into her therapy as needed in the overall support of global communication. She and her long time SLPA team are often the first speech pathology staff preschoolers encounter in KPBSD, and the early therapy she provides continues to make significant differences in those preschoolers' abilities to enter primary grades with the building blocks necessary to grow academically and navigate their social worlds with success and understanding.
In addition to her clinical work, Jackie has given of her time to graduate students over the years as they undertake clinical hours, internships, and mentoring for their CCC's, and her open and kind personality and enthusiasm for her students as people is infectious. She has for many years juggled high caseload numbers and complex cases spread over multiple sites with efficiency and fidelity. Her conviction that every child should have a voice is clear to see through the passion and dedication she has given her work as a school-based speech pathologist over the last two decades at KPBSD.
Robin Evans, retired and now a substitute SLP, received the Red Lantern Award for Outstanding Contributions in Rural Alaska!
The Red Lantern Award recognizes the unique challenges many AKSHA members work under to provide services to those in our rural areas.
Robin served as KPBSD's Child Find Coordinator, bringing her expertise as a SLP. She traveled around the diverse KPBSD K-12 school district that includes several small schools and communities. She went beyond screening youngsters; many times her SLP expertise led her to complete a speech and language evaluation. This expedited the process of qualifying children for services. Robin's care and concern for youngsters was evident. In addition, she eased the caseload for the SLP who would be servicing the child at their neighboring school. After Robin retired, she began her new adventures, travel and lifestyle, though she returned to KPBSD to assist in any way possible. She contracts her services, as well as provides substitute services for SLPs and special education teachers. Robin was a positive force who made a difference in the lives of children, families and communities.
Melody Spangler-Hatch, retired SLP, 1980-2012 was honored with the Lifetime Member Award for 20 or more years of outstanding history in clinical practice!
The Lifetime Member Award recognizes an outstanding history of clinical practice in the field of speech language pathology and-or audiology within Alaska and AKSHA. Nominees must have practiced at least 20 years as an Audiologist and/or SLP and been an AKSHA member for 10 or more years.
"For the past three plus years, I have been the SLP serving the Seward area schools with Seward Elementary as my home base," wrote nominator Cecilia Deatherage. "Being in Seward in Melody's old position, and her same room (30+ years), I repeatedly hear from many parents about their speech therapy and how she helped them … now it's their kids. Though I only really know her from KPBSD SLP meetings over the years and at AKSHA conferences, the consistent positive feedback I hear about her led me to this nomination."
Julie DeBoard, Special Educator and former speech student at Seward Elementary, shared, "Melody Spangler was my speech teacher in my second-grade year. In one year, she helped me master my R & S sounds. I still remember using the clicker to identify where in the word I heard my R sounds. Later on, I had the opportunity to work with Melody Spangler Hatch. I learned so much from this wonderful colleague. She taught me about paperwork, conducting myself in IEP meetings, interacting with the staff, and her love of her students was contagious. She was not only a colleague, but is also a very dear friend to this day! I saw her touch the lives of not only me, but also hundreds of students during her time at Seward Elementary School Her smile was infectious and it makes me so happy to see her plaque on the wall by her old room."
Kathi Davis, head secretary and parent of a speech student at Seward Elementary, wrote, "Melody Spangler Hatch–what a remarkable woman, a wonderful friend, and a person that is a joy to have in your life! Melody has always done so much for the community of Seward and has an amazing giving heart. Seward was blessed the day she arrived so many years ago, met the love of her life, and made this her home. She was a speech therapist at Seward Elementary for 32 years and taught hundreds of students how to speak correctly during her tenure here. I was one of the lucky parents having a child be a successful recipient of her love, dedication and talent. My son no longer sounds like he is from Brooklyn!"
Discover: Who are Speech-Language Pathologists & what do they do?
Link
AKSHA association